A Better Match for your clients
Making it easier for your staff to do what they do best – Supporting Ontarians towards employment and independence!
Let's get to
know each other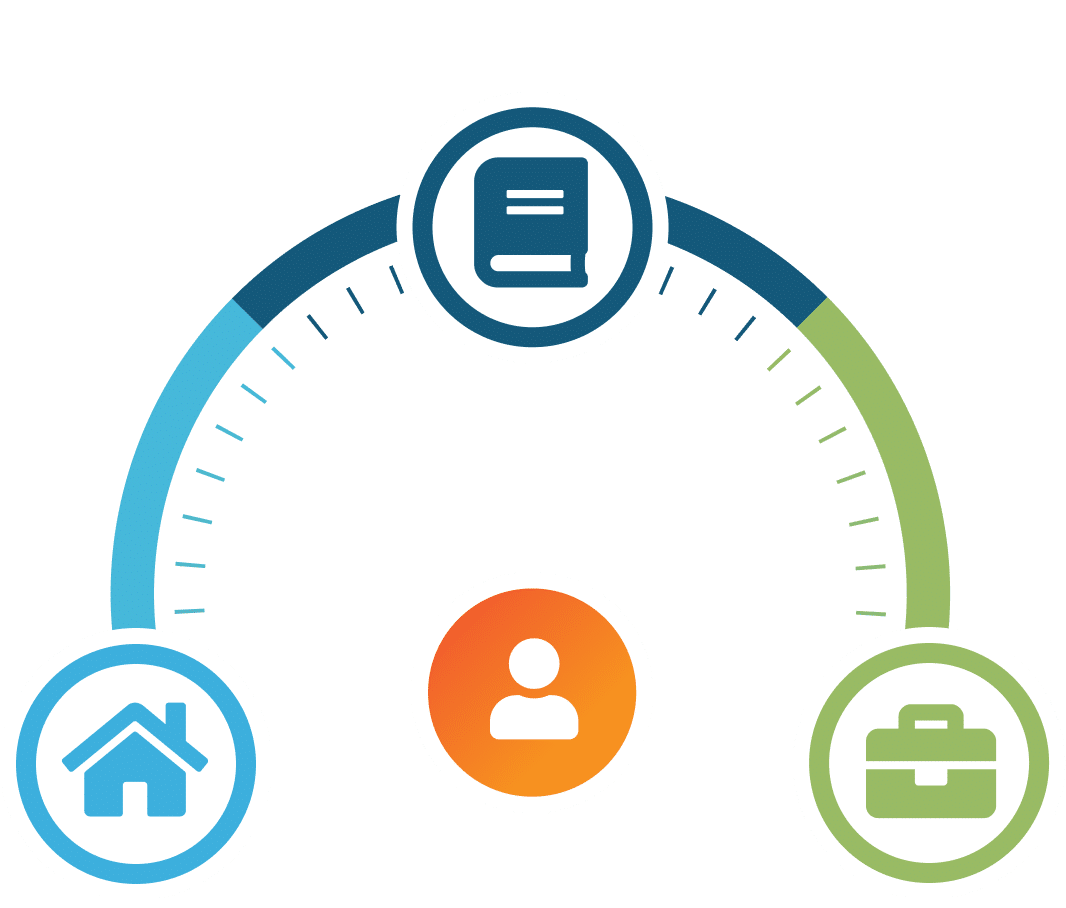 Designed directly with front-line staff
Proven Client Progress
The AMS houses a database of employment positions, training courses and certifications that all work together to help your staff assess, track and manage their caseload. Having access to available opportunities and supports has been proven to help clients improve their readiness for employment and increase their independence and participation within the community.
Quick & Simple Client Reviews
Allows your staff to have meaningful conversations about a client's needs and potential barriers, while collecting information for program planning and the broader need for services and supports.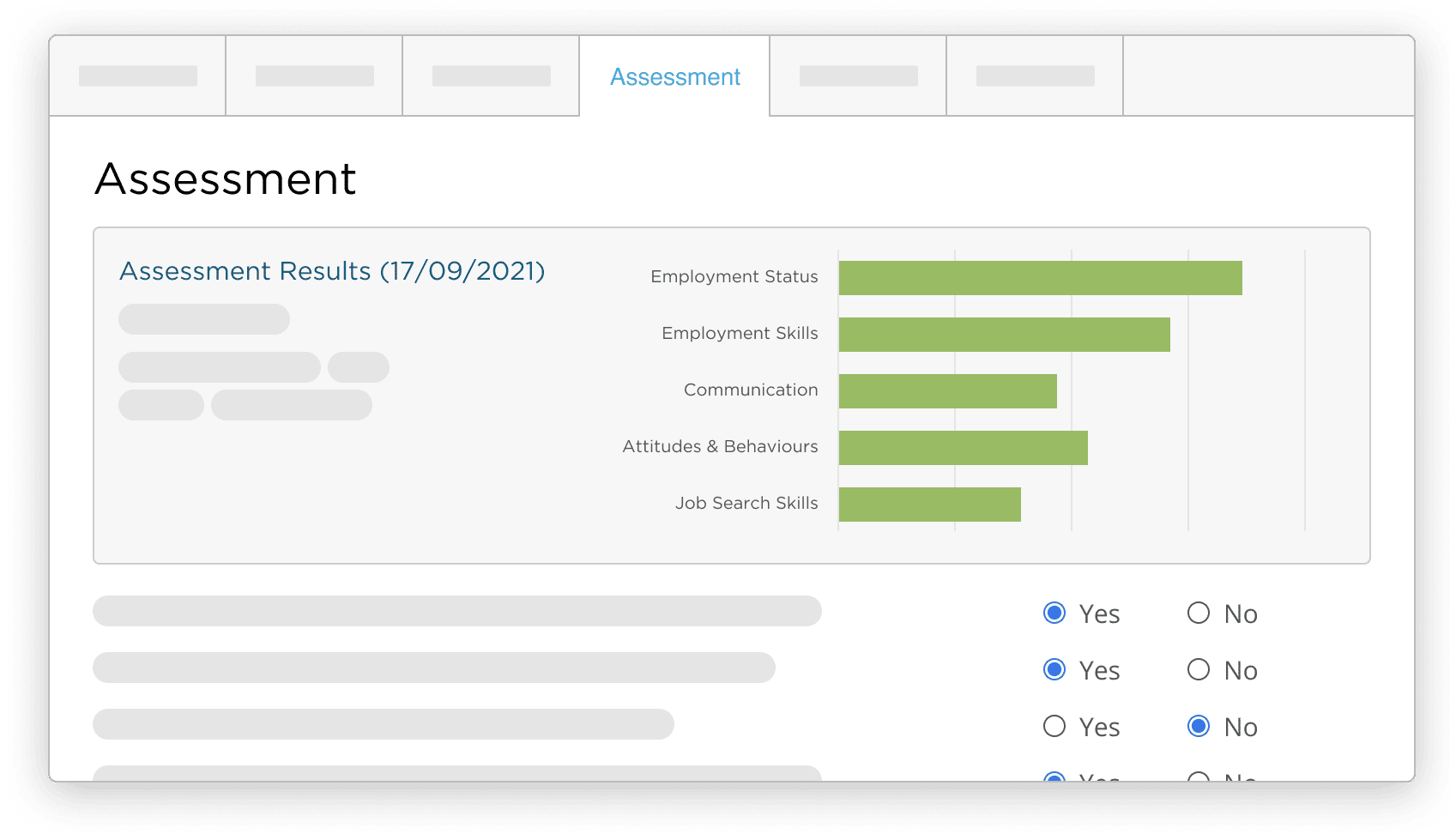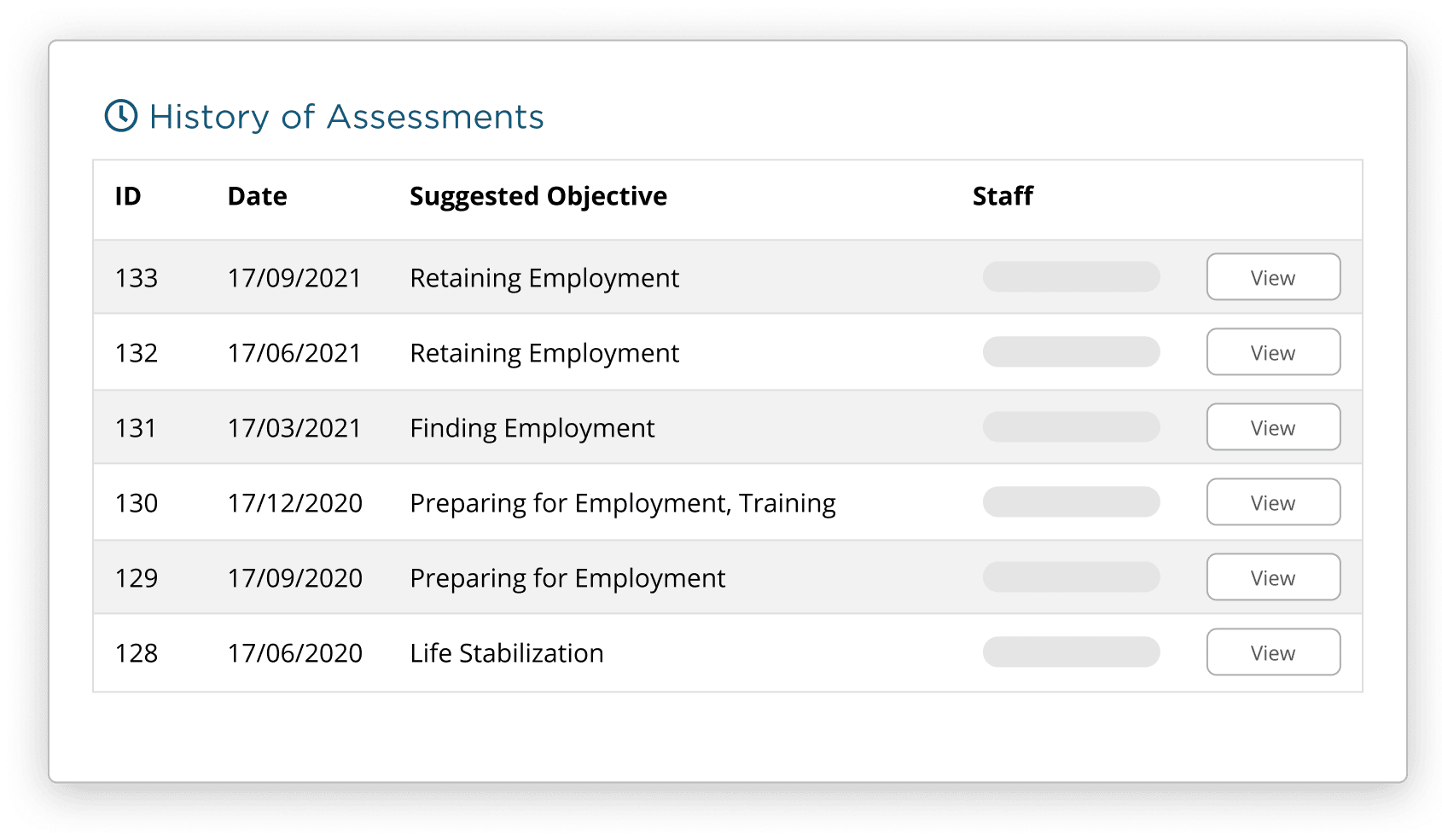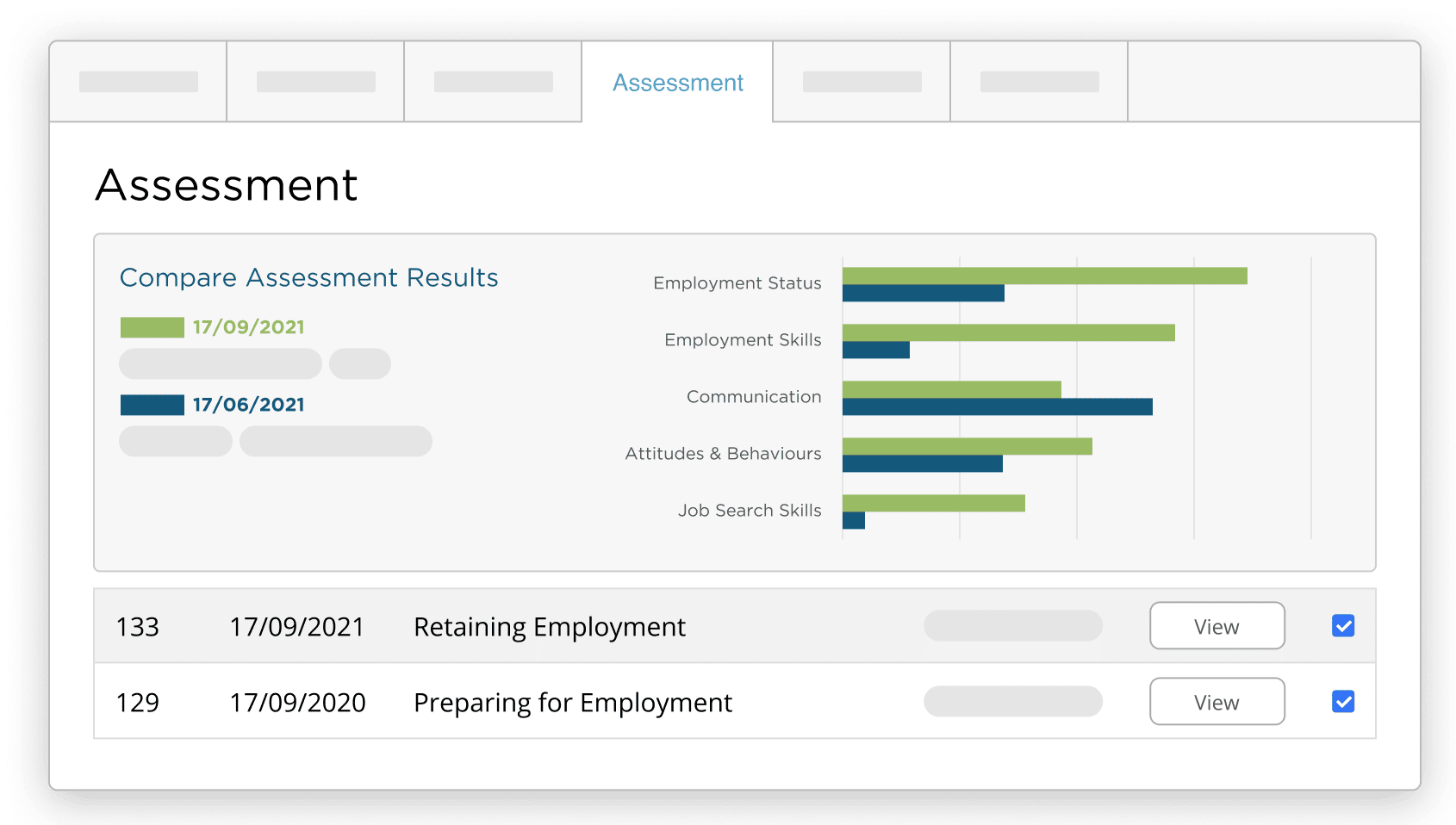 Quality Matches Automatically
The AMS matching engine connects clients with jobs they're suitable for or interested in pursuing, along with the training and certifications needed to get them there!
Training
Maintain an inventory of available courses and workshops for clients to improve their essential life skils and confidence to succeed in the workplace!
Jobs
Manage a complete system of positions to match clients' skills and abilities with the needs of local employers so they can succeed in their employment pathway.
Clients
Suggest quality system matches to clients, but the AMS still allows your staff to evaluate and ensure a proper fit with the client to further support their goals and growth.
Small Wins.
Big Milestones.
Celebrate your client's many life and employment achievements, and walk with them on their journey back to independence and stability.
The Client Timeline is a simple, friendly way to allow your staff to navigate and coach clients towards their goals, while offering encouragement and support along the way.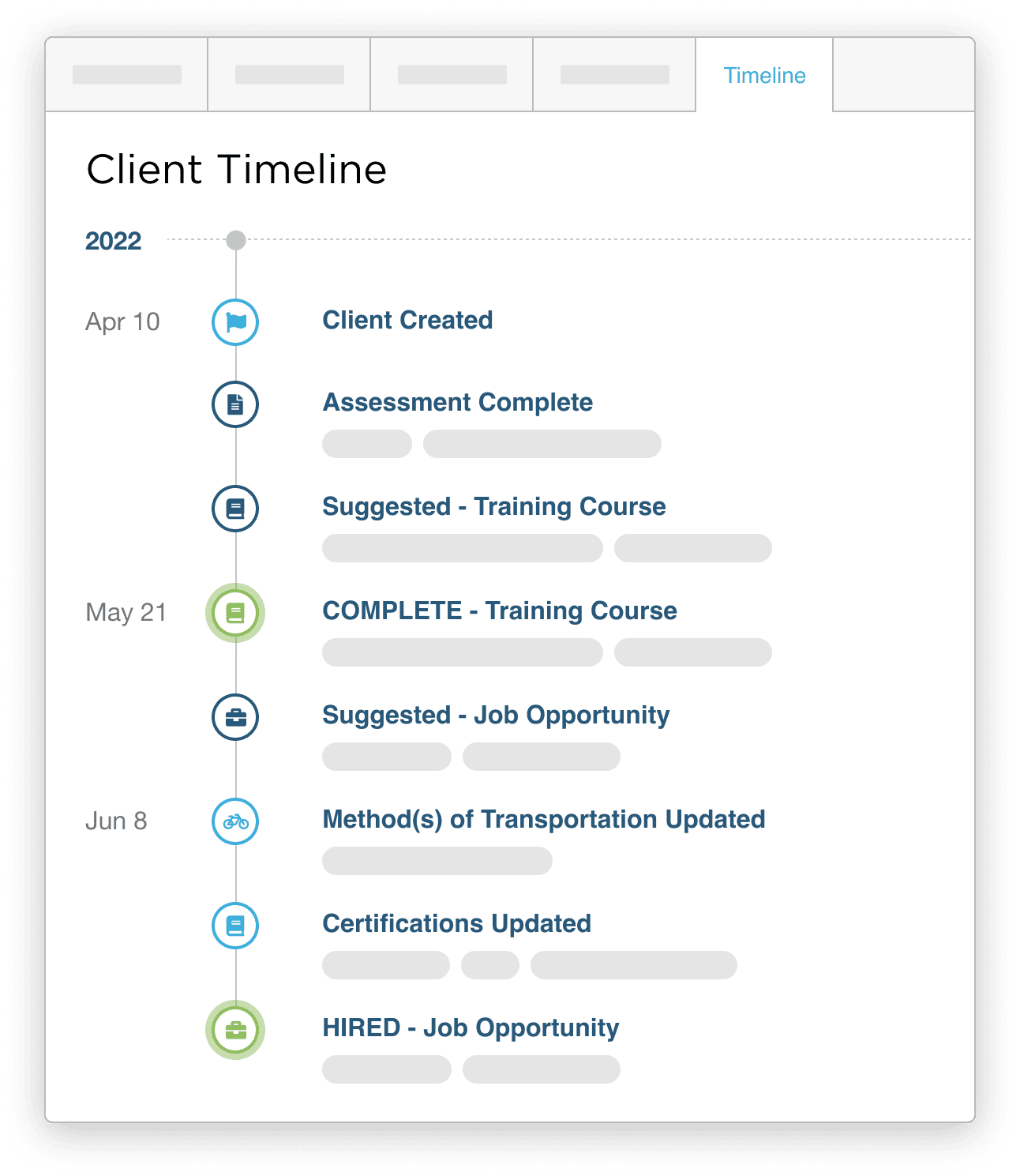 All the Features
You Expect…
And Tools You Didn't Know Existed
What Our
Clients Are Saying
Niagara Region
"It eliminates the need for staff to have to collect the information on Excel spreadsheets in order to understand where clients would like to work, where they would like to go to school or where they would like to gain more skills."
Lori Watson
Director, Social Assistance and Employment Opportunities
Niagara Region
District of Parry Sound
"This tool provides us with crucial data for program planning and reporting purposes, and the information collected allows us to provide quality, individualized case management supports to the most vulnerable in our communities."
Jeffrey Degagne
Manager, Income Support & Stability
District of Parry Sound Social Services Administration Board

Niagara Region - Erin
"This software has resulted in significantly less administrative work and provides more time for staff to focus on client support by providing timely responses to critical situations."
Erin Mozina
Manager, Social Assistance and Employment Opportunities
Niagara Region

Waterloo
"This effective case management tool has helped better understand our clients so we can connect them with local resources when needs are identified and streamline service delivery to them towards employment."
Sheri Phillips
Manager, Employment and Income Support
Region of Waterloo Community Services

Waterloo - Chase
"Our staff have been able to engage clients in more meaningful and trusting conversations. We have a better sense of the types of barriers people are experiencing, and have created specific service partnerships and options for clients."
Chase Collver
Manager, Strategic and Quality Initiatives
Region of Waterloo Community Services

Ready to see the Good stuff?
Let us show you around
A quick demo with our product specialists will help you know if the Clark AMS is a good fit for your organization. Learn more about all the features, tools and benefits of this system to help your team support clients towards their goals of independence, stability and employment!
Let's get to
know each other